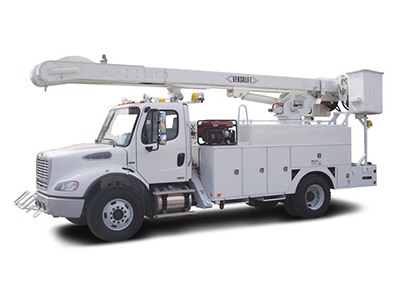 One of the our core competencies here at ETS Inspection and Testing Services is providing maintenance and repairs of electrical utility equipment. This includes servicing aerial devices, digger derricks, cranes and support equipment. We empower you to employ fleet services that are always in perfect working order. Our fleet services guarantee that your company meets and exceed all OSHA and ANSI requirement.
Although electrical utility fleet are procured with certified safety components, this equipment is constantly subject to damage during routine operation. They sustain damage due to in-service accidents, overloads, and fatigue. Regular fleet maintenance will eliminate operational and safety deficiencies. As it pertains to the cost of maintaining electrical utility fleet equipment, it's a pay now or pay later reality and pay now is almost always less expensive than paying later. This translates to taking care of your equipment, your people, and your business by having a strategic maintenance plan in place.
You can also extend the life of your fleet with regular routine maintenance. For more information about fleet maintenance and repairs, contact ETS Inspection and Testing Services.