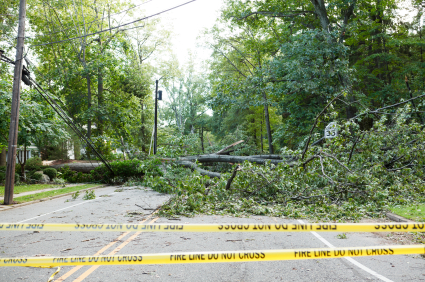 Power outages due to stormy weather, other natural disaster or technical malfunctions in power system can disrupt any commercial or business operations. Loss of electricity in company buildings and business establishments means no lights or power to run electrical equipment which is critical in business procedures. It's important to be prepared for power outages and to have power restored as soon as possible to ensure business continuity. Here are preparations to lessen the impact of power failure to business operations and ensure the safety of customers and employees:
Business Outage Alerts - Get potential power outage notifications in order to be informed ahead of time before loss of electricity takes place.
Emergency Hotlines - Make sure you have a copy of your utility company's emergency hotline to report any outage or outage-related issues right away.
Business Continuity Plan - Formulate a business continuity plan with employees concerning disruption of service due to power failure. Assign an emergency team of employees and start emergency drills and trainings for all company workers.
Back Up Power - Most companies invest on generators especially those that have delicate equipment. When operating the generator always follow the manufacturer's instructions. Place and operate generators outside the building and as much as possible in a perfectly ventilated area. Gas generators produces carbon monoxide that can be harmful to those inside the building when fumes coming from generators are inhaled. Always use well-grounded extension cords when connecting the equipment directly to the generator.
Emergency Supplies - Keep emergency supplies accessible at all times. This includes flashlights and extra batteries, battery-powered radio, cellphone with charger and first aid kit.
Building Safety Standards - Building must have luminous exit signs to guide your employees or customers out from the establishment to a safer area in the event of emergency that requires evacuation. Also, there should be security alarms and fire-suppression system installed.
If you need a quick power line repair and maintenance in MA to assist you deal with business power line issues, contact ElecComm. Our emergency response team are always ready 24/7.