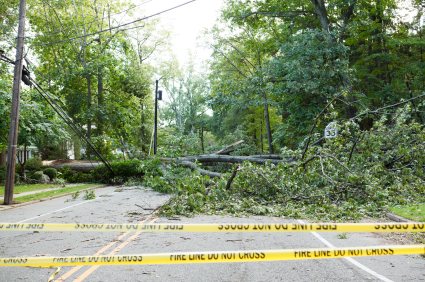 When June arrives, so does severe thunderstorm and hurricane season. While summer weather is bright and warm, it can turn nasty and without warning. Severe storms and hurricanes can form anytime within June to November. This always pose a threat to overhead power lines as storms bring forth heavy rain and strong winds that can uproot and knock down trees. Falling trees can be caught in pole lines eventually causing cables to snap resulting to widespread power failure.
In worst case scenarios, know that Eleccomm's emergency storm response is dedicated to assist major public utilities throughout the Northeast restoring power during major power outages resulting from storms. In addition, ElecComm (ECC) has expanded the overhead segment of its business to include, the everyday, installation, removal and maintenance of overhead lines. Moreover, we recommend upgrade of obsolete electrical infrastructures ahead of any predicted tropical cyclones for a sturdier electrical system framework. This will ensure continuous stream of electricity in your business facility amidst weather disturbances.
Know that our team is fully crossed trained and is ready for dispatch in preparation for any planned or unplanned event. Contact ElecComm for emergency power restoration, installation and maintenance of new infrastructures.