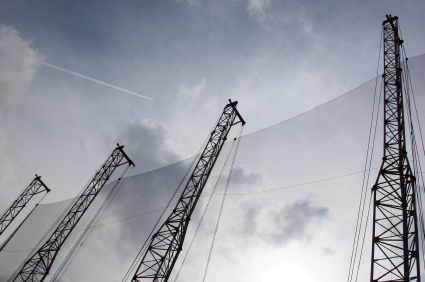 Safety has to be factored into every decision in running a golf course or recreational area particularly as it pertains not only to the golfers, but to residents and homes surrounding your course. No one wants to run the risk of injury or property damage. With our Golf Netting System solutions, we'll ensure you are doing right by your customers and your neighbors alike.
Safety is the primary concern of all business owners. Safe golfing environment will be achieved by replacing old golf nets and installing the highest quality American built steel poles and UV treated safety nets. With ElecComm's Golf Netting Systems, we will make sure injury or accident from flying golf balls or other projectiles are avoided. Our golf netting system will bring safety to your golf yard and driving range, as well as protecting people and property nearby.
Here's a couple of netting products we'd love to demonstrate for you:
Raschel Netting. Textured yarn zigzags along the length of the fabric. It requires that the number of separate strands of yarn equals the number of stitches in a row. Hence, this knitting method requires a machine.

Knotless Netting. The size of the holes in the net will vary depending on the use of the net. In knotless knitting, weaving patterns opposed to knitting patterns. There are no knots used to create this kind of netting. It is typically flexible and movable. Each strand are coated before being intertwined to guarantee more strength and durability.
Since every facility have different netting requirements, we fully customized our installation to meet each needs. We consider site's local weather patterns, trajectories, landscaping, specific safety concerns and overall aesthetic of the course. Our goal is to deliver a perfect combination of form and function, and we have the expertise to do just that.
For more tips on golf netting solutions, contact Eleccom.