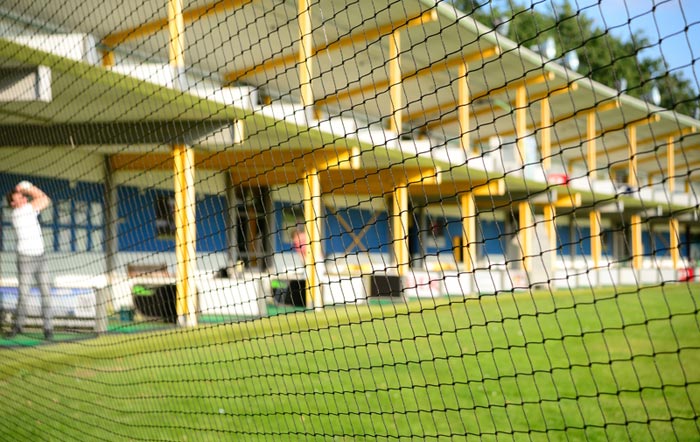 When it comes time to net your driving range and golf course, know that quality barrier nets will save you huge sums of money over the long ter. Our golf netting is made of the finest quality materials and is professionally installed by our experienced team, so that your commercial golf net is built to last. Custom golf netting is vital as it can keep long drives on the course where they belong and away from yards, windows, cars, and neighborhood homes. Our superior quality nets will provide valuable protection for adjacent neighbors.
Our professional team are trained and experienced in commercial net installations. We have completed a wide variety of installations with projects ranging from 25 feet to 125 feet tall, and can install taller nets if needed. We handle the entire installation job from start to finish. Our process includes:
Working with you on the design and general consulting of your custom netting project

Running all necessary cabling, hardware and rigging

Sewing a poly rope border into the sections of netting

Stretching all cables and hanging netting
We know that every customer has different needs and different applications. That is why we bring all of our experience and expertise to every golf course and driving range netting installation job. The team members are your netting design and installation experts. Golf netting, driving range netting and landfill/debris netting are not sidelines for us; they are our only focus.
The growth of the game of the golf only continues to move forward. The consistent need for golf netting that covers a wide range of needs for individuals, golf courses, and even driving ranges gives us the ability to promise you that regardless of what you may need in the way of custom golf netting, we can help. When it comes to golf netting that will suit your needs, there are things to keep in mind. It is important to purchase netting that is going to meet your needs for the present and another to take a long-term view of what you are going to need from your golf netting. We can help to ensure you choose something that is going to be absolutely perfect.
Our netting products are made from the finest materials to be found anywhere. There are demands for netting that vary from one range to another, from one course to another. From fabricating steel poles for driving range netting, to taking into account the homes/businesses near-to your golf course, home, or range, there are a number of smaller considerations within any larger project. You want to make sure you are working with a company that will take each of these considerations seriously. The end result will be netting that you will be able to rely upon for years and years to come.
We are going to make sure everything is being taken care of. From the design and general consulting of the project at its beginning, to make sure all of the relevant cabling, hardware, and rigging are taken care of, we are going to be there to handle absolutely everything. This includes sewing poly rope borders into the proper sections of the netting, and making sure all of the cables have been stretched properly as we work to hang the netting.
With our company, every installation is custom fit for the job at hand. We work with you to ensure that you get the perfect custom net installation for your needs. We see every project through from start to finish. We want you, our customers, as well as your customers and neighbors, to be happy with every installation we do. That is why we work to ensure your complete satisfaction.
If you have inquiries about custom golf netting installation, contact ElecComm.