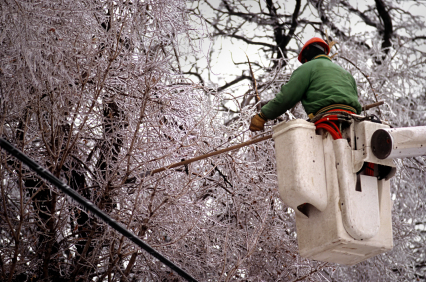 Winter can be challenging for several businesses because of the sever weather it brings. While the weather offers opportunities for winter related businesses, it can be challenging to manage when that same winter brings along with it power outages. The strong winds and heavy snowfalls that are common can be challenging for electricity distribution, particularly for overhead power lines. Hanging lines are exposed to the elements which makes them susceptible to damage. When this occurs, businesses call on utility companies and power line construction companies to provide immediate power line storm response.
Fortunately, winter power outages can be shorter because utility companies can outsource repair assistance to power line construction companies for faster storm response. Power outages in winter are even more difficult and dangerous due to the challenging and cold weather conditions and accessabiltiy. However, the expert crew of ElecComm deploys power line storm response teams for the immediate repair and maintenance to overhead power lines in MA. This helps ensure that the resumption of electric power before the outage takes a toll on business and community.
During winter power outages, damaged power lines and fallen utility poles are common. In these scenarios, immediate restoration of power is important to decrease the inconvenient and uncomfortable situations. Generators can provide temporary power but repairing downed power lines is important and the right team is needed to accomplish the task. To find out more about power line storm response for downed power lines during winter, contact ElecComm.