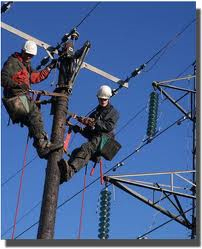 When storms, natural disasters or accidents such as fire, damage utility lines causing major power outages; utility companies need help restoring power. ElecComm is the company that is called in the New England area.

When large developments, new neighborhoods and condos are built, new utility lines need to be installed and power needs to be brought to those homes. ElecComm in the company to call in the New England area.

Our overhead line segment of our business includes the everyday, installation, removal and maintenance of overhead lines. ECC customers include but are not limited to major utility companies, state and local government, communication service providers, government federally funded projects, municipalities and private entities. If you need a trusted company for both emergency and planned high voltage and communications work, contact us.