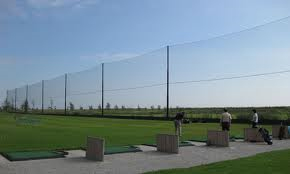 Golf courses and driving ranges around New England need golf course netting. Not an easy job, golf course netting needs to be safe and secure in order to protect against property damage and personal injury.

ElecComm provides installation of poles and netting for golf driving ranges and golf courses along with replacement netting and free estimates. All of our golf course poles and netting is done with Redden Nets.

You can count on the installation of your golf course netting to custom fit your needs. You, your customers, and your neighbors need to be completely satisfied with every golf course netting install we do. For information on installation, contact ElecComm.